Farm Tours Update
Farm and brewery tour experiences have returned -- New and Improved, with more hands-on Goats offerings!
We ask that everyone wear masks and maintain a minimum of six feet distance from staff and other guests when on the group tour, in our goatyard and on the trail.
Children over must be accompanied by a parent or guardian. You can secure children's ticket during your adult ticket purchase. Children under three are free, and do not require a ticket.
This system will help ensure the safety and comfort of our goats, guests, and staff.
Please stay tuned to our social media and our website for updates. Thank you for your patience and understanding.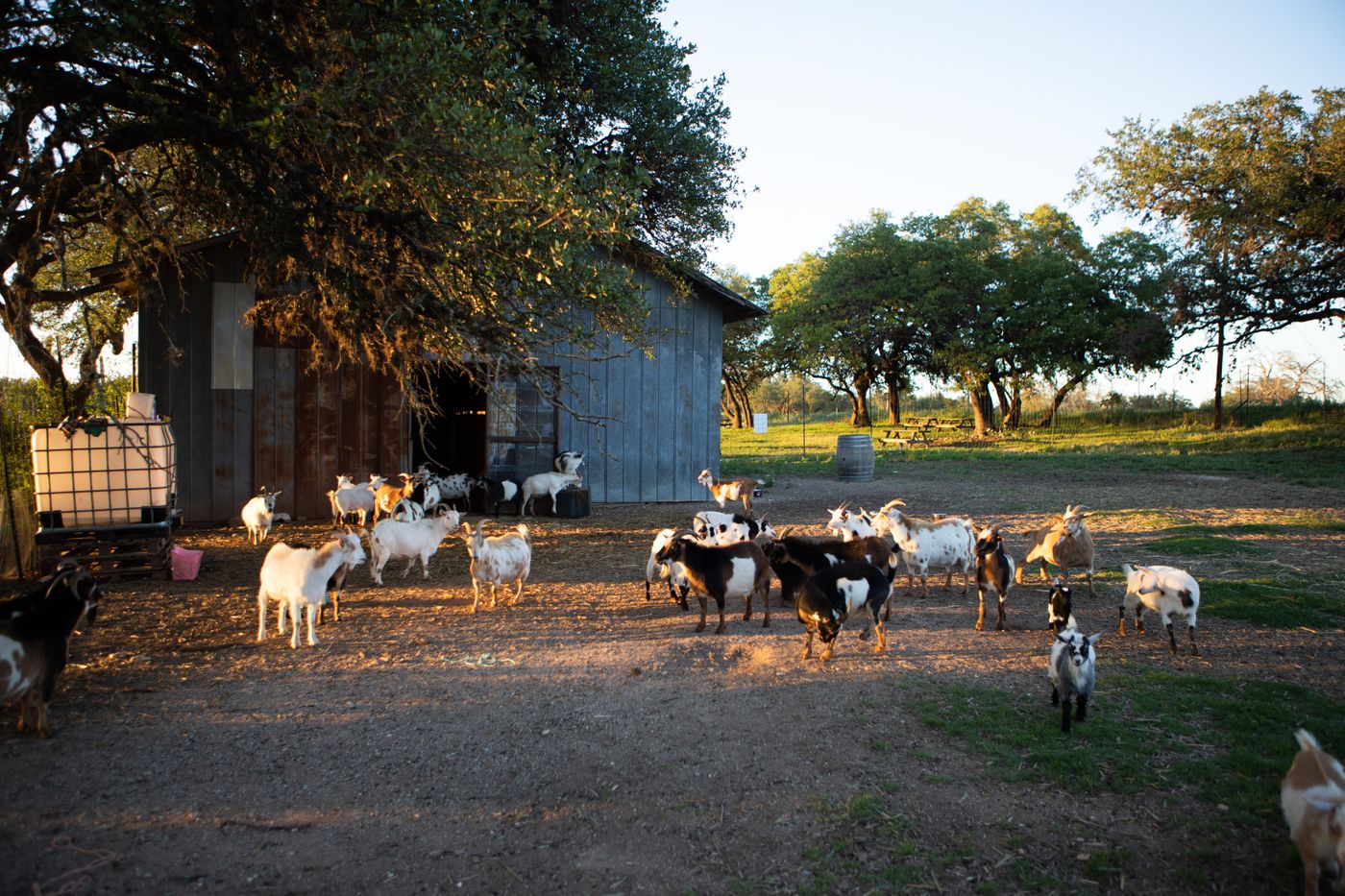 Jester King Goat Walk
Wednesdays, 6pm only!

Join Farmer Peppy on a shepherding experience of a lifetime while learning the benefits of holistic grazing with our goat herd.

$15 per adult.
Jester King Goat Experience
Thursdays and Fridays at 6pm, Saturdays and Sundays at 1pm and 5pm.

Join us for a hands-on engagement with our goat handlers! You'll have up to 45 minutes with our family of over 40 Nigerian Dwarf goats in the Goat Pen. Additionally you'll learn about their grazing habits and our general farming practices.

Please note that pets are not allowed in our goat pen to ensure the safety of our goat herd and our shepherd dog Sasha due to her protective nature.

Children must be accompanied by a parent or guardian. Secure a children's ticket during your adult ticket purchase ($10 each). Children under three years of age are free..

Walk-ups and add-ons are subject to group size limitations. Arrive early and inquire at the host stand about availability. Please practice social distancing from other guests and wear a mask while with the tour group.

All Goat Experiences come with a GA reservation included so you can enjoy our pizza and beer afterwards!

We recommend that all tour guests wear appropriate footwear and sun protection when on a tour at Jester King. Please note that dogs must stay leashed at all times, and are not allowed in the goat pen. Bringing your own refillable water bottle is heavily encouraged.

Note: if you already have a reservation booked at Jester King, please be sure to cancel your pre-existing booking AFTER you've secured your Goat Walk or Goat Experience tickets to prevent overbooking.

Thank you for your cooperation!
Public Brewery Tours
Brewery tours are offered at 2 and 4pm on Saturdays. Book your brewery tour or goat experience ahead via Tock.
We recommend that all tour guests wear appropriate footwear when on a tour at Jester King.
Drinks are not provided or required, but guests are welcome to purchase drinks from the Tasting Room or Restaurant prior to the tour.
All brewery tour attendees -- regardless of vaccination status -- are required to wear a mask inside the enclosed and confined brewery spaces.
As per CDC guidelines, fully vaccinated people are not required to wear masks while on our property in outdoor areas. Unvaccinated people are still asked to wear a mask when unable to socially distance and when interacting with our staff.
Anyone is welcome to wear a mask if they choose to.
Private Brewery Tours & Tastings
Private brewery tours and tastings can be booked for small to medium size groups, with limited availability on Fridays through Sundays. Subject to tour program staff availability and access limitations to our production areas. Please reach out at least a week in advance to schedule.
Please email tours@jesterkingbrewery.com for options and pricing.