Corporate Events
An Hidden Gem in the Texas Hill Country
Only 30 minutes from downtown Austin and nestled among the live oaks of the Texas Hill Country, Jester King is a relaxing natural landscape. Located on 165 acres in the Hill Country, we have various spaces to keep your guests wandering, such as The Hall (event venue), brewery, goat pen, two-mile nature trail, cabins at Jester King Inn, and more. Our natural environment makes a great place for goal setting, reflecting, building relationships, and celebrating. Whether you're looking for a full property buyout or planning a retreat for your leadership team, our staff will create a customized event that will be one to remember. Our team will provide top-notch service from planning through execution. We can't wait to host your next event!
Our Spaces & Amenities
Located on 165 acres of land in the Texas Hill Country, Jester King has plenty of space to fulfill your event needs. We have various locations on our property to host your corporate event, including:
Our amenities include:
Taste the Texas Hill Country with our world-renowned & award-winning farmhouse ales. Our beers incorporate water from the Trinity Aquifer, local grains, fruits and vegetables, foraged plants, and native yeast and bacteria, which makes Jester King beer uniquely tied to a time, place, and people. Our inspiration comes from the classic farmhouse breweries of Europe that embrace principles of subtlety, restraint, patience, full attenuation, and interesting fermentation character. We have a custom wine selection featuring national and international wines that are uniquely tied to their place of origin (from the coast of California to the Beaujolais region of France), seasonally crafted batch cocktails, as well as non-alcoholic beverages. We'll work with you to create a custom bar package perfectly catered to your guests.
Your guests will be more than satisfied with our seasonal, local catering from Executive Chef Mason Huffman and his team, Chef Matt Perez and Chef Matt Belisle. The Jester King Kitchen selects ingredients that are in season, sustainably sourced, and thoughtfully curated. We'll work with you to create a custom menu catered to your guest and event needs.
Nestled on 165 acres in the Texas Hill Country, Jester King Brewery & Kitchen is dedicated to the conservation, sustainability, and stewardship of our land. Several acres are allocated to our working farm, with progress being made towards food crops that can be used in our kitchen and beer production. Our goal is to find a balance in yielding from the land while returning needed nutrients back to the soil so that we may always exist in symbiosis. We use techniques such as the implementation of native grasses to trap and hold water into our aquifers, holistic grazing of animals for natural fertilization, and avoiding the use of pesticides in favor of promoting biodiverse systems which regulate themselves.
And of course, our large herd of Nigerian Dwarf goats (aka party crashers) are respected coworkers and live their best lives out here in the Texas Hill Country. Reputed as ornery creatures, these animals exhibit only kindness when shown respect. Though the smallest of all dairy goats, this West African breed can endure the summer heat. The herd is a matriarchy, the current ruling Queen is Luna… long may she reign. Our goats are more than happy to crash your event.
Looking to add an overnight element to your corporate event, or make it an all-weekend retreat? The Jester King Inn is located just a few short steps away from Jester King Brewery and The Hall. With accommodations for up to 40 people in our 5 unique cabins and direct access to Jester King Brewery & Kitchen, the Inn is a relaxing place to immerse yourself in the beautiful Texas Hill Country. Each of our one-of-a-kind abodes can host anywhere from 2-12 guests. We'll work with you to book a Jester King Inn buyout or individual cabins for your team.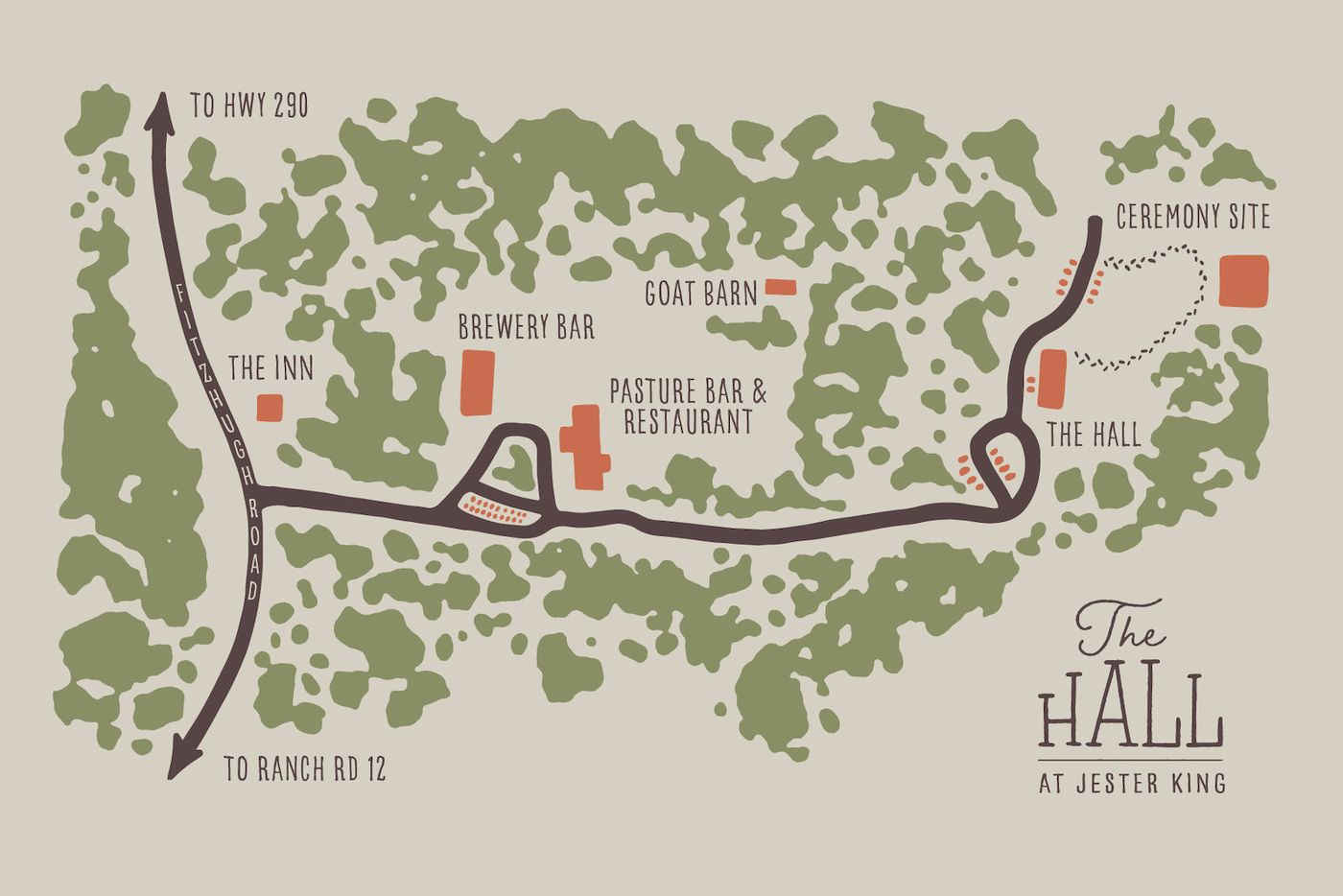 Questions? Email our private events team directly at privateevents@jesterkingbrewery.com.