Jester King is open for your outdoor dining & drinking experience which includes hiking trails for our guests to enjoy across our 165 acres of Hill Country land!
Our hours of operation are as follows:
Wednesday & Thursday -- 3-9pm
Friday -- 3-10pm
Saturday -- 12-10pm
Sunday -- 12-9pm
Reservations are encouraged, but not required (with the exception of large groups over 10 people). Walk-ins are always welcome.
Reservations are required for parties over ten people. Please click on the button above to make a reservation!
If your party needs any ADA accommodations for seating, please include that in your reservation or email restaurant@jesterkingbrewery.com. Thank you for your interest in visiting Jester King!
As per CDC guidelines, fully vaccinated people are not required to wear masks while on our property. Unvaccinated people are still asked to wear a mask when unable to socially distance and when interacting with our staff. Anyone is welcome to wear a mask if they choose to.
REVISED HOLIDAY HOURS
We will be open for onsite dining and curbside pickup on Monday, September 6th from 12-8pm for the extended Labor Day Weekend.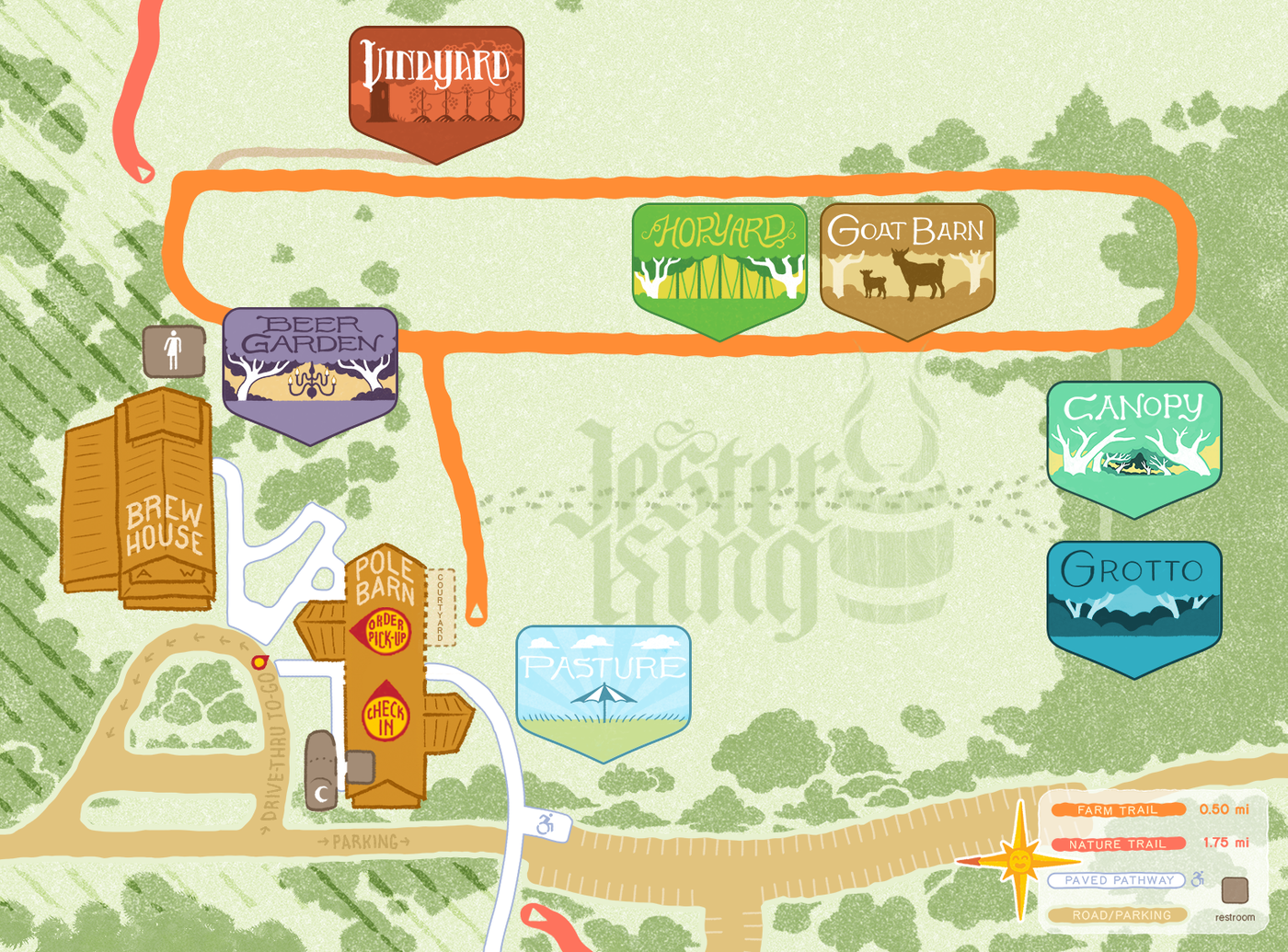 Preparing For Your Visit
Please read the informational e-mail that you receive upon booking. It includes parking and check-in details.

Outside water is welcome (but please no outside food or other drinks).

We recommend bringing sunscreen, as our seating is all outdoors. Some other commonly needed items are rain gear, proper footwear for all terrains, portable water bowls and waste bags for pets, insect repellent, tote bags for carrying bottles to go, hand sanitizer, and battery operated phone chargers.
During Your Visit to Jester King
Once you arrive at Jester King, you will be able to check in with the host. We ask that your party is complete.

You may choose any open table on our property.

On your table you will find a card with a website to enter or QR code to scan that will bring up our menu.

Once your food and drinks are ready, you will receive a text and you can visit our pick up area in the Pole Barn.

You can also order drinks at our walk-up Pasture Bar on Saturdays and Sunday.

We do accept cash at our Pasture Bar and the Jester King Shop.

We currently do not use glassware or cutlery. All draft beer is served in biodegradable cups unless you opt in to purchase a branded glassware.

Hand sanitizer will be available for use from our friends at Revolution Spirits.

You can re-order and pay or run a tab through the same contactless process with a credit card.

When you are all done, we ask that you please pick up after yourself as there will be plenty of trash and recycling bins around.

If you want to grab Jester King beer, food, merchandise, or other beverages to take home, please stop by the Jester King Shop in the Pole Barn!

Well-behaved pets on leash and under control by their owners are allowed. Off-leash pets are not permitted to ensure the safety of all pets as well as our guests, wildlife, livestock, and farm cats. Please clean up after your pet.
FAQs
How do I change my reservation or party size?
You can modify your reservation via the confirmation email you receive from Tock upon booking. If you have a party larger than 10 people, please send an email to tock@jesterkingbrewery.com with the reservation name, and details you wish to change - please note that we cannot guarantee or reserve tables for large groups.
We cannot make our reservation anymore. Should we let you know?
Yes please! Cancelling your reservation opens up your slot for someone else to enjoy the experience. You can cancel your reservation from the email that you received from Tock at booking. You can also call/text us at 512-661-8736 or email tock@jesterkingbrewery.com.
What is your inclement weather plan?
Reservations will be honored rain or shine, however, in the event of dangerous weather, please refer to our social media for any news of the brewery closing. At this time, our covered area seating is limited to the Pole Barn.

If you need to cancel a reservation due to inclement weather, we would happily accommodate rescheduling your reservation for another date or building a food and beverage order for you to take home with you.
How long am I allowed to stay once I've arrived?
Currently, we close every Wednesday through Thursday and Sunday at 9pm, Friday and Saturday we close at 10pm.
Is it possible to reserve adjacent tables to another party?
We can do our best to accommodate this request but at this time we cannot guarantee that you and the other party will be able to sit next to each other. All reservations are made on a first come first serve basis, so if your section is fully booked, we'll need to seat the tables separately.
Tables' locations cannot be physically moved. The best way to ensure your party can sit near each other is by showing up on time or early with all members of the parties present.
Do you offer gluten-free pizza or beer?
Unfortunately, due to the amount of flour in the pizza oven, we are unable to make truly gluten-free pizza. Although we cannot make gluten-free pizza, we have other dishes on our menu that are gluten-free. We always offer a selection of gluten-free wines and ciders.
Where do we check in?
All guests will now enter through our pathway behind the Pasture Bar and check in at the host stand inside the Pole Barn.
Do I need to wear a face mask during my experience at Jester King Brewery?
As per CDC guidelines, fully vaccinated people are not required to wear masks while on our property. Unvaccinated people are still asked to wear a mask when unable to socially distance and when interacting with our staff. Anyone is welcome to wear a mask if they choose to.
Can I bring my child and/or pet?
Jester King prides itself on being a family-friendly experience. We ask that all children remain under adult supervision and agree to all rules on the property. All pets must remain on a leash for the entirety of your visit.
We have a party of more than ten people. Is it possible that we can reserve adjacent tables to sit together?
Our reservation system isn't the traditional 'reserve a table, get preassigned a table'. All tables are first come first serve. Keep in mind there are plenty of wide open spaces with several tables, so even though we can't guarantee both parties can find adjacent tables, Chances are that two tables adjacent to each other won't be difficult to find.
How do I transfer my brewery tour or goat experience reservation?
To transfer a reservation, log in to your account and then select, "Reservations". Each reservation has a transfer button next to it.
Can I bring food or drink to Jester King?
No outside food or drinks are allowed at Jester King with the exception of water bottles.
Do you offer tours?
Yes - please book your brewery tour or goat experience here.
Do you offer water for drinking onsite?
Yes - we offer packaged water for sale, but we encourage all guests to bring refillable water bottles if they so choose.
Should we bring anything with us?
Common additional items needed during the Jester King experience that may be useful to bring along:
- raincoats or umbrellas
- proper footwear for all terrains
- bottle opener/corkscrew
- portable water bowls for pets
- sunscreen
- water bottles
- insect repellent
- tote bag for carrying bottles to go
- hand sanitizer
- battery operated phone charger
THE LANDS