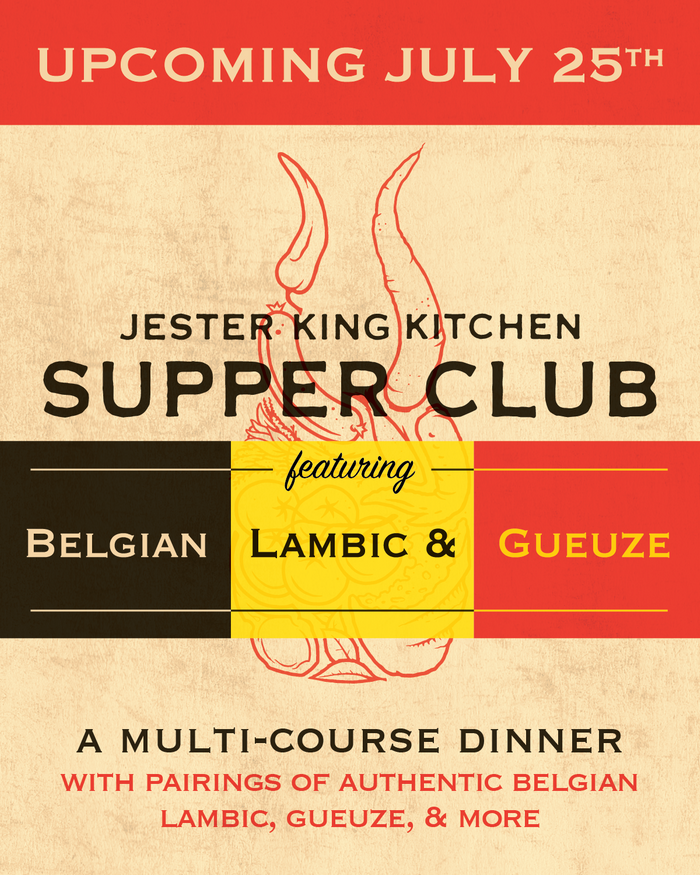 Supper Club Featuring Authentic Belgian Lambic & Gueuze
July 25, 2019 7pm
We're excited to announce that July's Supper Club will feature Authentic Belgian Lambic and Gueuze along with Jester King SPON. The beers to be announced.
The kitchen lead by Executive Chef Damien Brockway has put together a menu inspired by farmhouse Belgian food to be served community-style with the beer. The menu is below:
Gratis
BVC Gouda Waffles
Snacks
Salad Liegeoise
Aged Hop Smoked Duck, Local Potato, Chicories
Preservation Plate
Assorted Cured Meats, Preserved Vegetables, Fermented Honey
Soup
Kriek & Melon Soup
Wild Blossoms, Verbena, Lemon Balm
Mains
Beef Carbonnade
Rice Pilaf, Preserved Mushroom, Wild Herbs
Baked Soft Ripened Cheese
Rustic Bread, Preserved Blueberry
Speculoos
Shortbread, Cinnamon, Cultured Butter
Tickets are $90 (plus fees). The tickets are all-inclusive (pairings and gratuity included). The dinner will be 7-9pm on July 25th. We hope you'll join us for this special dinner!