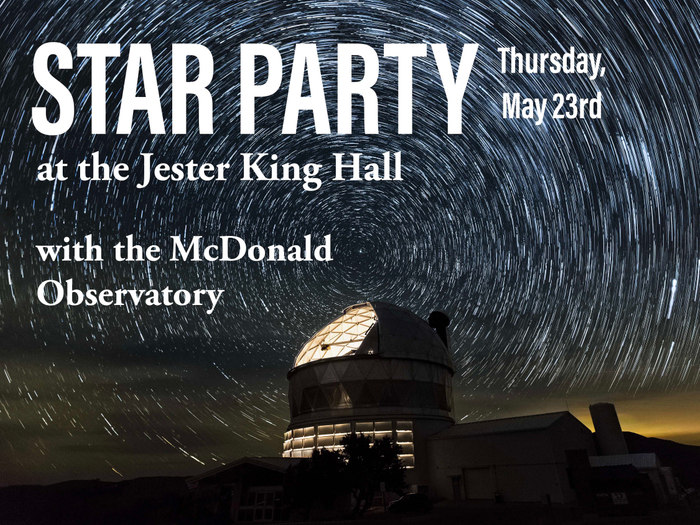 Star Party w/ McDonald Observatory
May 23, 2019 12am
Star Party with the McDonald Observatory
Thursday, May 23rd
6:30 – 10:30 PM
The Hall at Jester King
Ticket Price: $30
We're excited to host our very own Star Party at Jester King with the McDonald Observatory.
Please join us for an evening of talks and telescope viewing at Jester King's new "dark skies compliant" event hall.The ticket price of this event also includes first pour and snacks. Proceeds for this event will benefit the McDonald Observatory at The University of Texas at Austin.
In 2014, the city of Dripping Springs became the first International Dark Sky Community in Texas. This designation aligns with Jester King's commitment and philosophy to preserve the natural beauty of our piece of the Hill Country.
Both Jester King Farmer Peppy and McDonald Observatory Dark Skies Advocate, Bill Wren, will speak about the importance of preserving dark skies and their efforts to reduce light pollution. Following the talks, we will enjoy an evening of telescope viewing with McDonald Observatory volunteers.
About McDonald Observatory: While the UT Department of Astronomy's home base for research is here in Austin, the McDonald Observatory is located in the Davis Mountains of West Texas, 450 miles west under some of the darkest skies in the US! The observatory offers the research community some of the most high-tech and globally networked equipment in the world. Learn more on their website.
Event Schedule
6:30 – 7:45p Drinks and snacks
7:45 – 8:30p Presentations (Farmer Peppy, Jester King Farmer & Bill Wren, Special Assistant to the Superintendent, McDonald Observatory, University of Texas at Austin)
Jester King's Role in Preserving Dark Skies Over Texas Hill Country by Farmer Peppy, Farmer at Jester King
Preserving Dark Skies Over McDonald Observatory by Bill Wren, M.Ed., Special Assistant to the Superintendent, McDonald Observatory, University of Texas at Austin
Over the past 10 years, oil and gas related activities in and around the Permian Basin have led to a brightening of the sky along our northern horizon. While the skies overhead remain extremely dark, as these activities draw closer to the Observatory, they threaten to brighten the skies further. Bill will report on measurements made with an All Sky Photometry system acquired to monitor the state of the skies, and his work with the oil and gas industry to help light their nighttime activities in a dark sky friendly way.
8:30 – 10:30p Stargazing and Telescope ViewingLastly, we'll open early at Noon on Good Friday. Here's our full hours for the Easter holiday weekend:
Thursday 4-10pm (JK Kitchen closes at 9pm)
Friday 12-10pm (JK Kitchen closes at 9pm)
Saturday 12-10pm (JK Kitchen closes at 9pm)
Sunday 12-9pm (JK Kitchen closes at 8pm)