We've re-opened Jester King in the mold of a park offering picnic grounds and hiking trails for our guests to enjoy across our 165 acres of Hill Country land!
Our hours our: Wednesday, Thursday & Friday -- 4-9pm; Saturday & Sunday -- 12-4pm & 5-9pm
Please click on the button below to make a reservation. Information can be found below on visiting Jester King and our new safety guidelines. Thank you for your interest in visiting Jester King!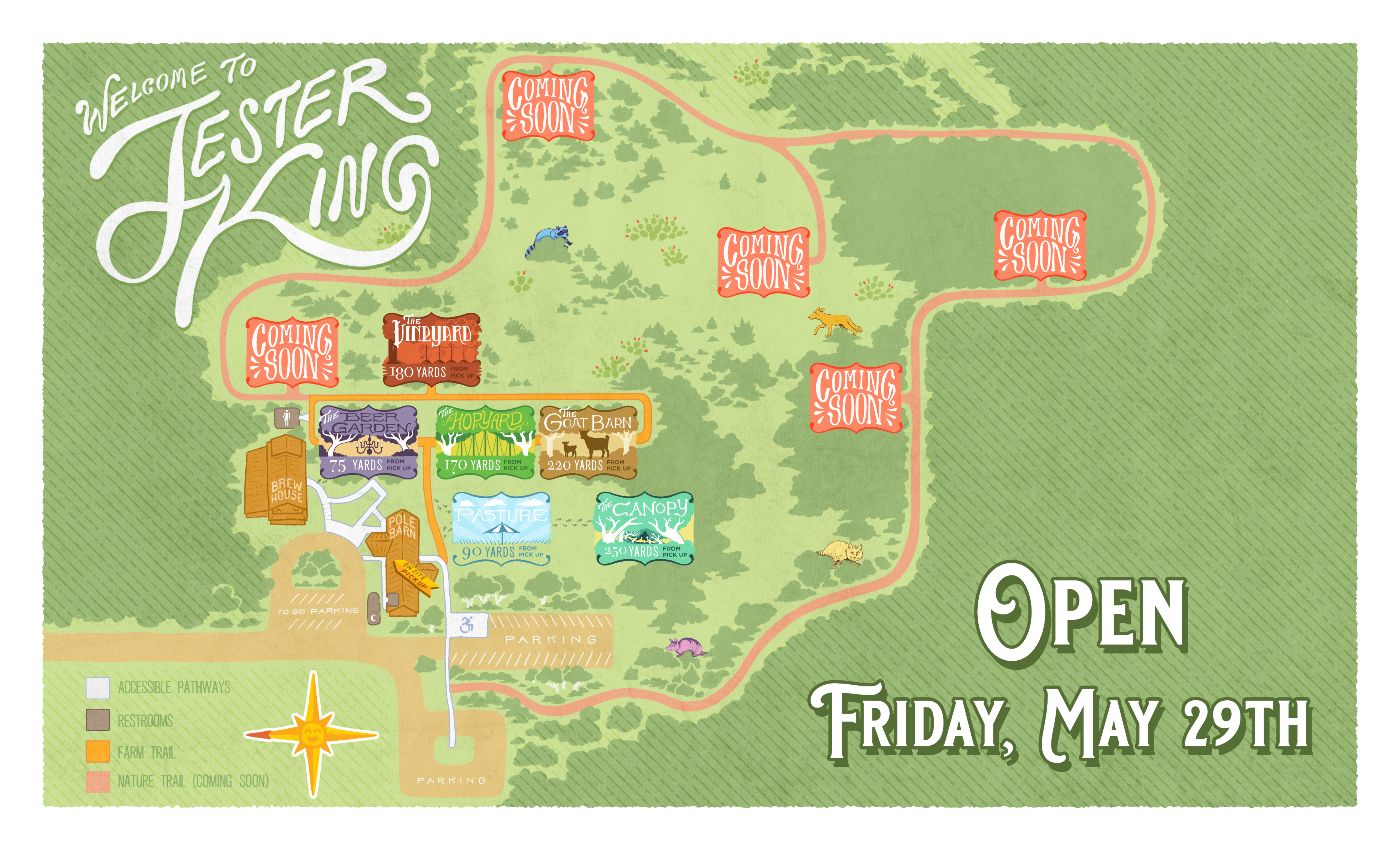 Booking Your Visit
We are holding one session on Wednesdays through Fridays from 4-9pm (by reservation only)

On Saturday and Sundays, we are holding two separate sessions (12-4pm & 5-9pm) by reservation only to help limit the number of guests at Jester King at one time for safety reasons. Between sessions, we will do a hard close for cleaning and sanitation.

When making your reservation via our Tock page, please select which Land you wish to have your picnic.

No matter which time slot you choose, you will be able to stay for the duration of the session (until 9pm on Wednesday-Friday and until 4pm or 9pm on Saturday-Sunday).

Group sizes are limited to a maximum of 6 guests per table. If you would like to have a larger party, multiple reservations will be required.

If your party needs any ADA accommodations for seating, please include that in your reservation or email tastingroom@jesterkingbrewery.com.
Preparing For Your Visit
Please read the informational e-mail that you receive upon booking. It will mention where to park and check in.

Current health guidelines advise against communal water stations. We will only be offering packaged water for a nominal fee. We regret not offering communal water, but the reason is public safety.

Outside water is welcome (but please no outside food or other drinks).

Each member of your party must have their own facemask, as they will be required at all locations aside from your table. There are no exceptions to this rule.

We recommend bringing sunscreen, as our seating is all outdoors. Some other commonly needed items are rain gear, proper footwear for all terrains, bottle opener/corkscrew, portable water bowls for pets, insect repellent, tote bags for carrying bottles to go, hand sanitizer, and battery operated phone chargers.
During Your Visit to Jester King
Once you arrive at Jester King, you will be able to check in with the host. We do ask that your party is complete and that everyone is wearing masks.

When you check in for your reservation, the host will give you an overview of where you can go and how to get to your picnic area.

You may choose any open table in your reserved area, but we ask that you please not move to another table during your visit and not move any tables. stay at this table for the entirety of your visit.

The host will also provide you with a card that with a website you can enter into your browser or QR code to scan that will bring up our menu.

Once your food and drinks are ready, you will receive a text and you can visit our pick up area in the Pole Barn.

We will not be using glassware or cutlery. All draft beer will be served in biodegradable cups.

Hand sanitizer will be available from our friends at Revolution Spirits and Desert Door Distillery.

You can re-order and pay through the same contactless process. Payment is completed for each order. You will need a credit or debit card, as we will not be accepting cash at this time.

When you are all done, we ask that you please pick up after yourself as there will be plenty of trash bins around.

If you want to grab Jester King beer, food, merchandise, or other beverages to go, please place the order the same way as you did on site. We will prep that order for you and you can grab it on your way out!

Unfortunately we will not be offering goat visits, farm tours, or brewery tours at this time.

Our playground equipment has been removed. We ask that children please stay with their families at their tables.

Well-behaved pets on leash and under control by their owners are allowed. Off-leash pets are not permitted to ensure the safety of all pest as well as our guests, wildlife, livestock, and farm cats. Please clean up after your pet.
FAQs
How do I change my reservation or party size?
Please send an email to tastingroom@jesterkingbrewery.com with the reservation name, and details you wish to change. We can take it from there and send you a new confirmation!
We cannot make our reservation anymore. Should we let you know?
Yes please! Cancelling your reservation opens up your slot for someone else to enjoy the experience. You can cancel your reservation from the email that you received from Tock at booking. You can also call/text us at 512-661-8736 or email tastingroom@jesterkingbrewery.com.
Reservations are full. Do you have a waitlist?
Unfortunately, we are on a limited service capacity and cannot offer a waitlist at this time. Feel free to check back on your date in mind as new slots open there when cancellations are made.
What is your inclement weather plan?
Reservations will be honored rain or shine, however, in the event of dangerous weather, please refer to our social media for any news of the brewery closing. At this time, we do not have the ability to seat groups indoors. If you need to cancel a reservation due to inclement weather, we would happily accommodate rescheduling your reservation for another date or building a food and beverage order for you to take home with you.
How long am I allowed to stay once I've arrived?
Until we close for our scheduled sanitation! Currently, we close every Wednesday, Thursday, and Friday at 9pm and every Saturday and Sunday at 4pm and 9pm. Depending on which picnic session you've booked, you have until the next sanitation window. For example, if you've booked for 12:30pm on a Saturday, your session ends at 4pm sharp. Last call for food and beverage orders take place in the hour before a session ends.
Is it possible to reserve adjacent tables to another party?
We can do our best to accommodate this request but at this time we cannot guarantee that you and the other party will be able to sit next to each other. All reservations are made on a first come first serve basis, so if your section is fully booked, we'll need to seat the tables separately. Tables' locations cannot be physically moved. Parties are not allowed to trade tables for sanitary reasons. The best way to ensure your party can sit near each other is by showing up on time or early with all members of the parties present.
Do you offer gluten-free pizza or beer?
Unfortunately, due to the amount of flour in the pizza oven, we are unable to make truly gluten-free pizza. Although we cannot make gluten-free pizza, we have other dishes on our menu that are gluten-free. We always offer a selection of gluten-free wines and ciders.
THE LANDS