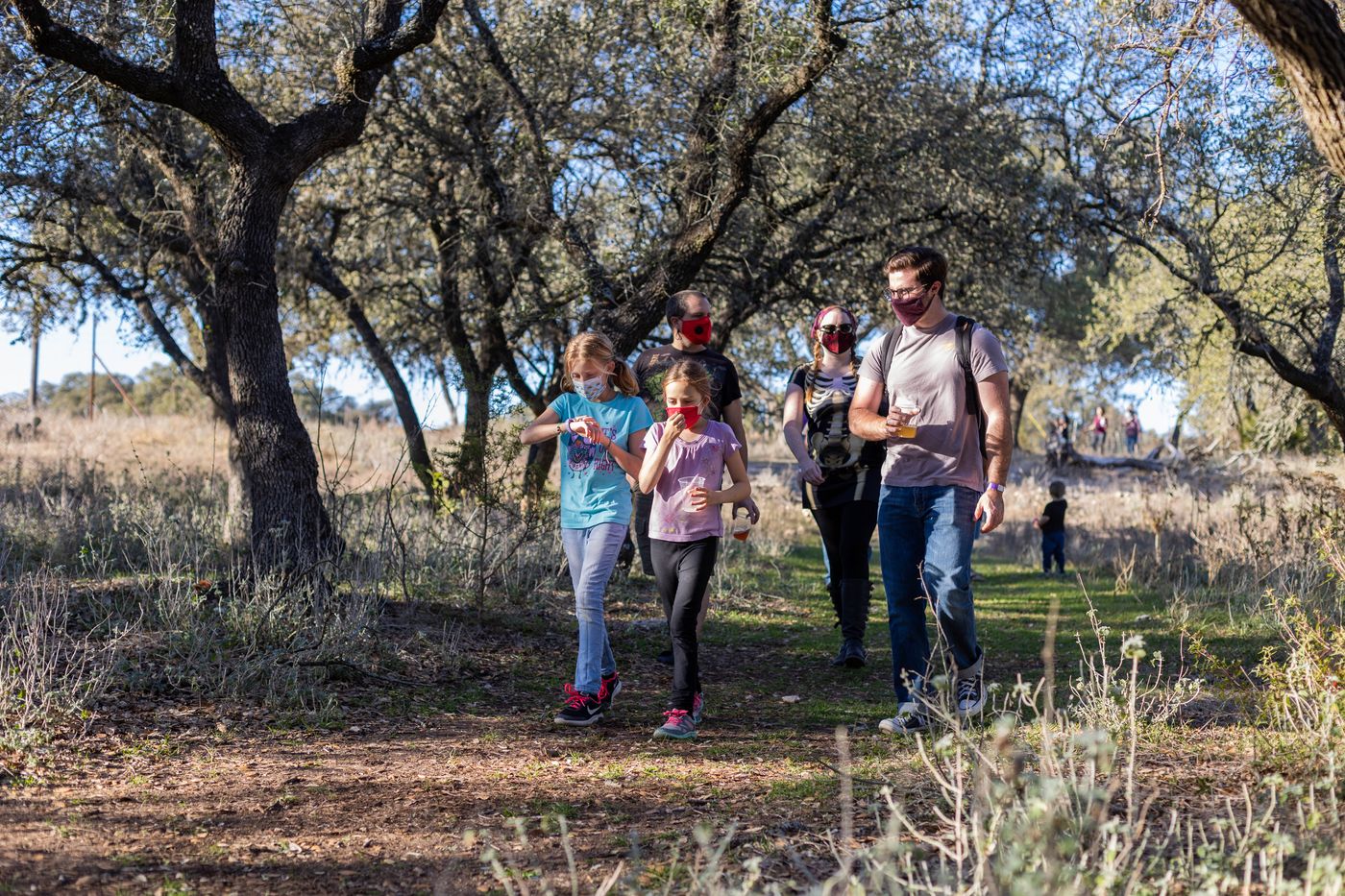 "We abuse land because we see it as a commodity belonging to us. When we see land as a community to which we belong, we may begin to use it with love and respect." ― Aldo Leopold, Author of "A Sand County Almanac"
Our two-mile nature trail is open! We worked hard in 2020 to clear the trail and create signage for all of our guests to enjoy. Come on out and enjoy the trail through our natural landscape 8am-dusk daily. Be sure to bring a water container, and wear comfortable shoes as the terrain is uneven in some areas.
If you're looking for a shorter walk, we have a 0.5 farm trail that loops around the goat barn. Make sure to give the goats scratches as you walk by or spend more time with them by getting tickets to one of our Goat Tours.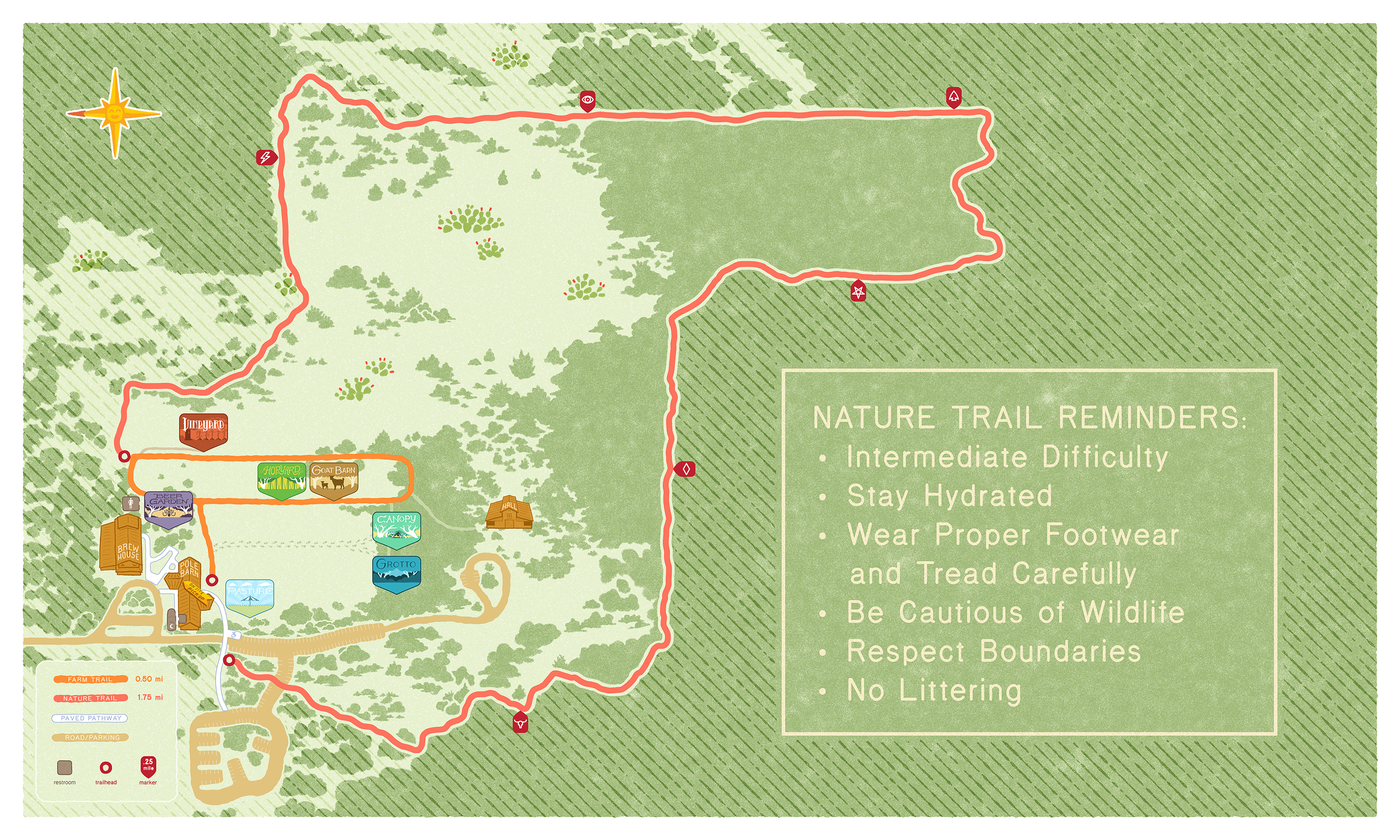 Thursday Run Club
Jester King Run Club brings together like-minded running enthusiasts and craft beer fans with a weekly run through our natural landscape in the Texas Hill country. Whether you're a first time or seasoned trail runner, you'll enjoy your time at Jester King.
We meet every Thursday at Jester King. If this is your first time with the Jester King Run Club, please check-in at the host stand so you can sign a waiver and get your stamp for one free beer after your run. We meet just outside the Pole Barn/Pasture Bar. OUR 2-MILE TRAIL RUN STARTS AT 5:30PM (Standard time) & 6:30pm (daylight saving time). See you there!
Guidelines:
Please plan on arriving around 5pm in time to check in and stretch before the run takes off from the Pasture at 5:30pm sharp.
All participants are asked to sign a waiver prior to this organized run event.
We will run rain or shine, and we ask that there are no strollers due to the terrain. Well-behaved leashed dogs are welcome. (Please pick up and dispose of pet waste properly). We may cancel due to freezing weather or brewery closures.
Please be sure to hydrate and dress accordingly for sunshine and terrain. Be prepared for varied terrain, from wooded mulched paths to a rocky ridgeline through the Texas Hill Country.
*Each runner over 21 years of age will receive a complimentary Jester King beverage each week at the completion of the run.
Food and drink are available for purchase. $2 off pizzas & crowlers all day Thursday!
Don't forget to join the Jester King Run Club Facebook group for weekly updates. Click here to join.
In 2015, Jester King took its first major stride into land conservation by purchasing 58 acres around the brewery. This move not only protected the natural beauty surrounding the brewery, but led to a nascent farm growing a few fruits and vegetables.
In 2018, we purchased an additional 107 acres of land including the facilities now known as Jester King Kitchen and the Hall at Jester King. Expanding our trail system provides the opportunity for our guests and community to enjoy and appreciate the natural landscapes of the Texas Hill Country that surrounds and energizes us.
Hiking Etiquette
Proper hiking etiquette helps instill respect for other trail users, and it promotes stewardship of the land. These are a few guidelines that will help you have a safe, fun, and relaxing time while on our trails.
When in doubt about something just remember the "golden rule" — treat other trail users how you want to be treated, and respect the wildlife and lands.
Make yourself known. When you encounter other hikers and trail users, offer a friendly "hello" or a simple head nod. This helps create a friendly atmosphere on the trail.
Stay on the trail. Don't step off trail unless when yielding. Going off trail can damage certain plant or animal species, and can impact the ecosystems that surround the trail.
Please practice 'Leave No Trace' principles. Leave rocks and vegetation where you find them for others to enjoy.
Be aware of your surroundings. Keep you and any members of your group safe, and help keep our wildlife and their habitats safe and healthy.