Lodging at the Jester King Inn
Looking to get away for a long weekend in the Hill Country? Stay at the Jester King Inn (formerly the Tipping T Inn) with direct access to the Jester King grounds through a private gate.
The Inn is a relaxing place to escape and ground yourself for your Texas Hill Country experience. Each of the five properties offers unique accommodations ranging from two up to ten guests. Book your next couple's weekend or family vacation at the Jester King Inn.
Bobcat Cabin
Bobcat Cabin has a bed nook, loft, dining and living area, and offers guests a delightful experience. Enjoy the gorgeous natural light that comes in through the large windows. This cabin is a serene retreat surrounded by oak trees. Book the Bobcat Cabin here.
Bunting House
Bunting House was created to give special guests a place to stay. It is a large studio room with a queen-size Murphy bed, kitchenette, large deck, and a full bath. The kitchenette includes a mini-fridge, coffee maker and toaster oven. Book and get more information about staying at the Bunting House here.
Dillo Cabin
Dillo Cabin features a bed nook, loft, dining and living area. The house has a water cooler, refrigerator, toaster oven and coffeemaker for convenience. Relax on the porch and enjoy the scenery! Armadillo House is located near the Tejas Pavilion for access to the bathhouse (key access only).
Book at Dillo Cabin here.
Ruby Cabin
Ruby Cabin is a beautifully landscaped house with porches on three sides. The front and side porches look out into the Texas Hill Country, while the back porch opens to a private yard and a moonlight shower. The house has two full bedrooms, a study, a living room, a full kitchen, and two bathrooms.
Bedroom #1 has a queen-size bed, aprivate porch with an outdoor moonlight shower and a private half bath.
Bedroom #2 has a queen-size bed along with a full-size bed and access to a shared full bathroom.
The sleeping nook features a twin/twin bunk bed.
Book the Ruby Cabin here.
Coyote Cabin
Coyote Cabin is an old fashioned bungalow, built in central Austin in the early 1900s. It was moved to East Austin in the 1930s around the time the University of Texas underwent an expansion. Featuring renovations using salvaged materials, the Coyote Cabin has unique windows, gorgeous wooden walls and hardwood floors.
Coyote Cabin offers two private rooms upstairs. Each room sleeps two in queen-size beds. On the first floor there is a spacious bunk room with two twin-over-full size bunk beds. Coyote Cabin has recently been updated to include its own private bathroom! Guests will still have access to the large modern bathhouse should they need additional facilities. Book Coyote Cabin here.
Camping at Jester King Inn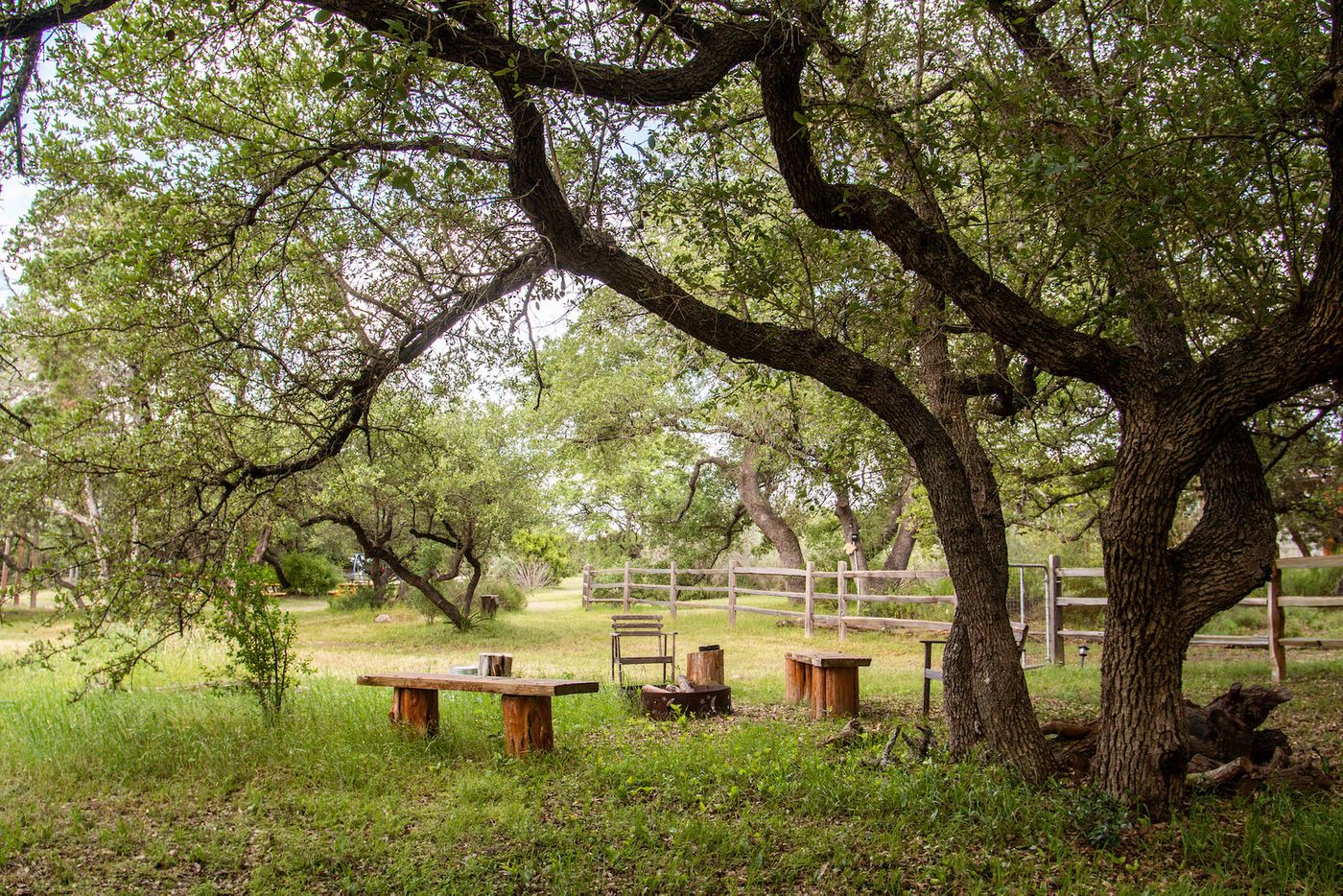 Our relaxing property features a climate controlled cedar wooded bathhouse with hot indoor and outdoor showers, a common campfire area, and plenty of land to explore. Campsites are spaced generously and have their own picnic tables.
You'll have access to a private walk that leads to Jester King, a world class brewery, kitchen and farm that houses adult and baby goats.
More Information
Relax in the shade and enjoy the peaceful surroundings, and enjoy the amazing view the Hill Country sky offers at night. The Jester King Inn is a place where you will make memories.
For more information or to book, visit the Jester King Inn airbnb page.