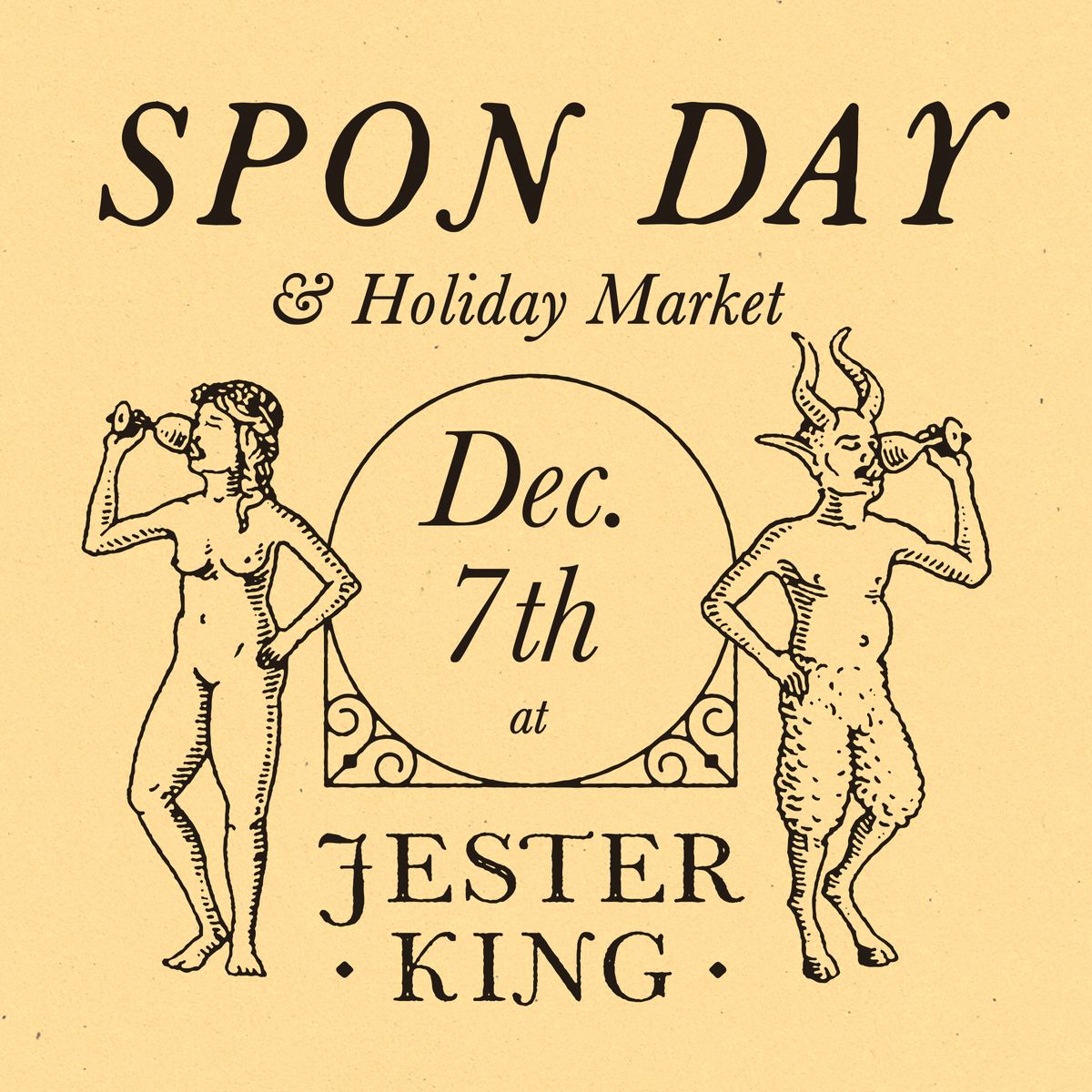 SPON Day & Holiday Market
Save the date! 2019 SPON Day & Holiday Market will be on Saturday, December 7th!
SPON Day is when we release our annual three year blend of spontaneously fermented beer, feature some of our favorite spontaneously fermented beers and wines, and celebrate the holiday season. Follow our FB event page for updates!
The list represents seven years of brewing, blending, patience, and spontaneous fermentation!
BY THE GLASS
2019 SPON Three Year Blend
2018 SPON Three Year Blend
2018 SPON Estate Peach
2018 SPON Blueberry & Pitaya
2018 SPON Plum & Nectarine
2018 Elements of Composition
2017 SPON Three Year Blend
2017 SPON Sangiovese & Syrah
2017 SPON Muscat
2017 Wanderflora
BOTTLES TO GO
2019 SPON Three Year Blend -- 831 x 750ml / $36 / limit 1
2019 SPON Three Year Blend -- 2024 x 375ml / $20 / limit 3
2018 SPON Plum & Nectarine -- 24 x 375ml / $29 / limit 1
2018 SPON Raspberry & Cherry -- 84 x 375ml / $29 / limit 1
2017 SPON Three Year Blend -- 10 x 1.5L / $120 / limit 1
2017 SPON Peach & Apricot -- 36 X 375ml / $31 / limit 1
2017 SPON Syrah & Sangiovese – 72 x 375ml / $31 / limit 1
2017 Wanderflora -- 24 x 750ml / $33 / limit 1
2016 SPON Flor -- 36 x 375ml / $40 / limit 1
2016 SPON Mourvedre & Sangiovese -- 72 x 375ml / $33 / limit 1