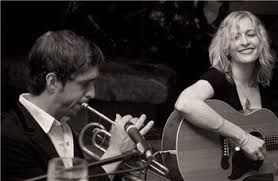 Jester King Inn Summer Concert Series: Hilary York Duo
Welcome to your intimate Jester King experience, and the only way to get draft beer onsite on Tuesday's! In celebration of the addition of the Jester King Inn to the Jester King family of brands, we are opening up our space to a limited number of guests to experience the Inn as never before. Live music, Jester King beer, a bonfire pit and snacks to roast over the open fire...or in other words, Hill Country Heaven.
On July 20thth, we are ecstatic to welcome Hilary York to our outdoor stage. Hilary was born in Houston, Texas, but moved overseas where she began writing poems, learning piano, and writing songs. She moved to Austin, attended college and learned guitar. York has been playing shows since 2000. Hilary's forthcoming album "3" was recorded and mixed at Buds Recording Services in Austin and produced by The Greyhounds. 3 singles out now! Full album 2021 streaming only.
Tickets are $20 plus processing fees. Limited capacity of 50 total tickets.
21 years and up only - remember to bring your government issued ID. Beer,wine and snacks will be available for purchase. No outside food or drink (other than water).
Schedule as follows:
7:00pm -- Jester King Inn opens
7:35pm -- Music starts (approx. 2 hour run time)
Event ends at 10PM.
We have more than enough space for everyone to spread out -- our mask policy is expected to still be in effect.
Fully vaccinated people are not required to wear masks while on our property. Unvaccinated people are still asked to wear a mask when unable to socially distance and when interacting with our staff at the bar. Anyone is welcome to wear a mask if they choose.