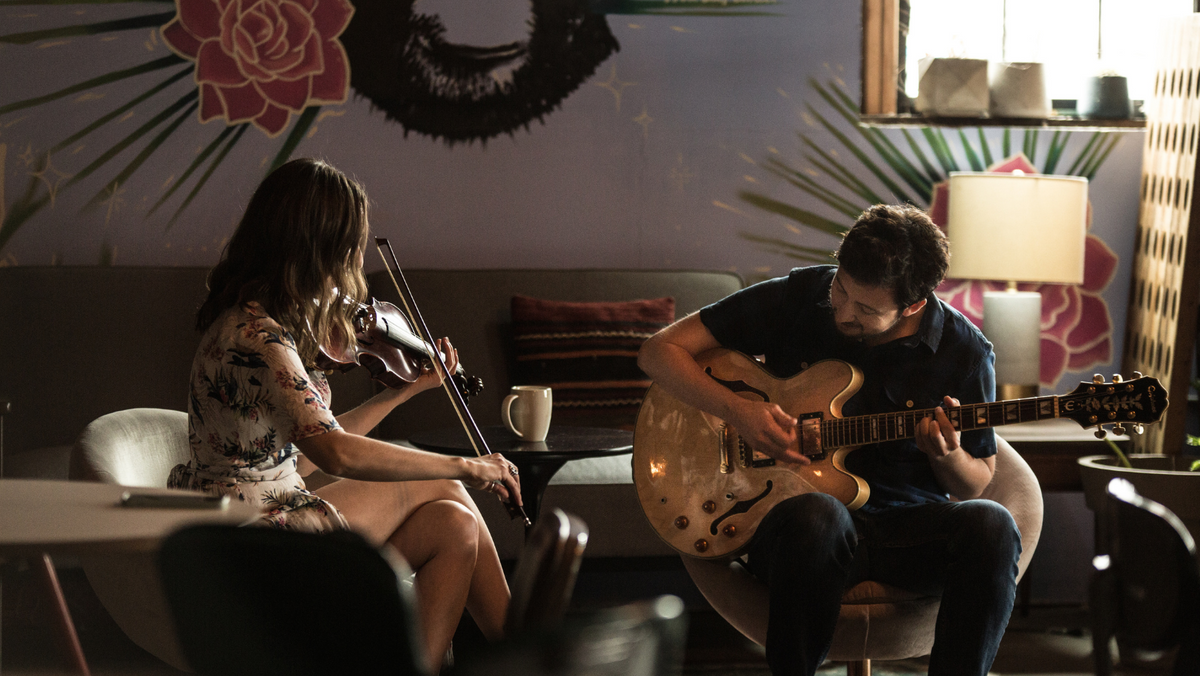 Jester King Inn Summer Concert Series: Deer Fellow
Welcome to your intimate Jester King experience, and the only way to get draft beer onsite on Tuesdays!
In celebration of the addition of the Jester King Inn to the Jester King family of brands, we are opening up our space to a limited number of guests to experience the Inn as never before. Live music, Jester King beer, a bonfire pit and snacks to roast over the open fire...or in other words, Hill Country Heaven.
On July 6th, we are ecstatic to welcome Deer Fellow to our outdoor stage. Deer Fellow is an indie folk-pop duo with a "keen sense of song craft." Based out of Austin, bandmates Matt Salois (guitar, vocals) and Alyssa Kelly (violin, vocals, piano) met at an open mic and were quick to collaborate. Fast forward to present day and coupledom, the two have built a cross-genre sound that "pulls you in right away, stirring romance and broken hearts."
The duo's vocal harmonies and unique guitar-violin blends have landed them features on KUTX Radio, CBS Austin, and EASTside Magazine. Often compared to the likes of Andrew Bird and The Staves, Deer Fellow's debut EP Words Unsaid presents a collection of captivating songwriting and soundscapes that "shine with authenticity." From live showcases with Austin greats to virtual festivals alongside such artists as Grammy winner John Paul White of The Civil Wars, their style and substance have garnered attention within the indie music industry.
Fans describe their live performance as an experience that "gives that warm tingly feeling, like taking a bath with a glass of champagne." The group currently plays all around Austin and plans to go on tour in the near future.
Website: https://www.deerfellow.com/
Instagram: https://instagram.com/deerfellow
Facebook: http://www.facebook.com/deerfellow
Spotify: https://open.spotify.com/artist/1yVdEUx3N9W9JuxSIC...
SoundCloud: https://soundcloud.com/deerfellow
Tickets are $20 plus processing fees. Limited capacity of 50 total tickets.
21 years and up only - remember to bring your government issued ID. Beer,wine and snacks will be available for purchase. No outside food or drink (other than water).
Schedule as follows:
7:00pm -- Jester King Inn opens
7:35pm -- Music starts (approx. 2 hour run time)
Event ends at 10PM.
We have more than enough space for everyone to spread out -- our mask policy is expected to still be in effect.
Fully vaccinated people are not required to wear masks while on our property. Unvaccinated people are still asked to wear a mask when unable to socially distance and when interacting with our staff at the bar. Anyone is welcome to wear a mask if they choose.